Suri produce a rare beautiful fibre unlike that from any other animal. The best known suri trait is the outstanding natural lustre making it able to achieve effects in the finished product that require chemical treatments on other fibres. Less obvious to the naked eye the structure of the suri fibre shaft is very smooth with a lower scale relief than most fibres, this translates directly into the exquisite silky handle of the fibre. While these qualities and its uniqueness give suri fibre tremendous value, it also means there is very little known about the best way to process it and there is often a reluctance to try with suri as it is something new.
The idea that you can't process fine suri has been pretty much put to bed by the "Surissimo" suri fabric trial.
The challenges now are to find the options for processing and to get people to breed more suri of the quality required for processing. We have the stock in New Zealand of the quality required to lift the herd, we just need to get people to think about fibre when making their breeding decisions.
From a product marketing point of view, suri have an advantage over huacaya as their market image has not been tainted by poor quality Peruvian products. We need to build on this and ensure products are all of a high standard when branded as suri.
New Zealand has a unique opportunity to develop ass aspects of the suri industry from breeding through to producing high value products. We just need to believe we can do it and get behind each other and work together.
"Esta es la mejor calidad de fibra de Alpaca, la Suri, es sedosa, brillante, suave, más bella en realidad, esa es la que yo uso para mis diseños, me gusta, me encanta en realidad."

"This is the best quality of the Suri Alpaca fiber is silky, glossy, soft, beautiful actually, thats what I use for my designs, I like, I love actually." (

Translated by Bing

)
Carlos Váscones, Designer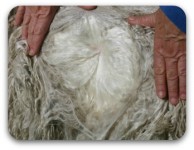 Raw suri fibre on the animal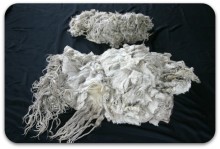 Shorn suri fibre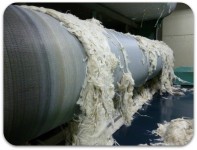 Suri fibre being processed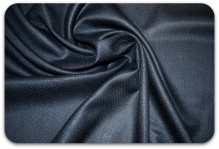 Suri makes a beautiful lustrous fabric
Rumpelstiltskin Project
Rumpelstiltskin is the name of the project developed to take the next step with processing suri fibre in New Zealand. It will take the valuable information learnt from the Surissimo fabric trial and produce a suri product from the commercial processing options available to us today.
Rumpelstiltskin is primarily Thistledown Suri Stud and Surico Alpaca, but will involve all suri breeders in New Zealand who want to take part by attending industry information days and by supplying fibre.
The first stage of the project is classing the NZ suri clip and securing the fibre that meets the specifications for the project. We will be purchasing suitable fibre for the project. There are classing and baling days planned for the North Island on 10th and 11th oNovember. A South Island day will follow on the 1st and 2nd of December.
The next stage will be processing, from scouring through to finished product. The completed product will be used for promoting suri and any profits will be used for continuing this research.
Finally, the Rumpelstiltskin Project will develop a preferential buyer model that breeders aspire to be producing for and can use as a marketing tool. All New Zealand suri growers will have the opportunity to be part of this to lead the industry forward.
Sustainable Farming Fund Grant
Rumpelstiltskin is very pleased to announce that we have received a small grant from the Sustainable Farming Fund to help with the project.
A big focus of the grant is to do with education and industry involvement, so the whole NZ suri industry will be getting the benefit of this.
---

More pages you might be interested in...