Stud Services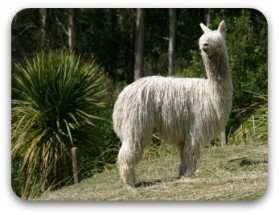 Why choose a Surico Stud Service?
Stud Servicing is all about getting the best possible alpaca genetics for your herd. We can take away all the stress and expense of purchasing and owning a stud male by providing you the right male for each female in your herd and only when you need him.
What is Stud Servicing?
With Stud Servicing you don't own the male, you are effectively renting him for the job. We can provide a stud service for you either on your farm through "mobile mating" or "lease". Alternatively you can bring you female alpaca to us for an "on farm" mating or a "driveby" mating.
How it works...
We work with you to make the best choice from our selection of stud males and the type of mating that best fits your situation. The first step is to contact us for an obligation free chat. You can tell us your Stud Servicing requirements and we'll run through them with you. From there we can prepare a proposal and quote to meet your needs. Once you are happy we can book the first visit.
Why Us?
When you're looking for Stud Services you will be looking for value, we've got the genetics, quality and experience to deliver you a real step forward towards your breeding goals. Our vision is to make New Zealand the leading suri producers in the world and to do this we want to help all suri breeders achieve breeding success.