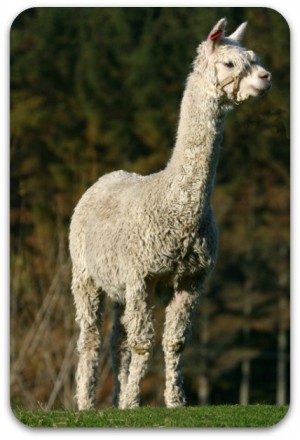 Kaihere Accoyo Brilliante
Solid White Suri- IAR 60312
Breeding true to his name, Brilliante's hallmark trait is incredible lustre. An impressive male in the paddock he has, like all Accoyos, good strength of bone and great conformation. Brilliante is leaving offspring with soft silky handling, solid independent locks, extreme lustre, and excellent coverage.
Brilliante has had 2 National Suri Supreme titles awarded to his progeny, Surico Ballerina and Surico Mantovani. His offspring have earned nearly 50 broad ribbons including 11 Supreme awards. His genetics are a must for your suri breeding program.
Sadly Brilliante died in 2011, he will be greatly missed by Surico as his genetics have been a corner stone of our breeding programme.
His legacy is his progeny, we have some very nice male and female suri to carry on his line. Alinghi is already proving himself with some absolutely stunning offspring. Matisse, Prospero, Brilliance, all from different female lines are showing great promise as future stud males.