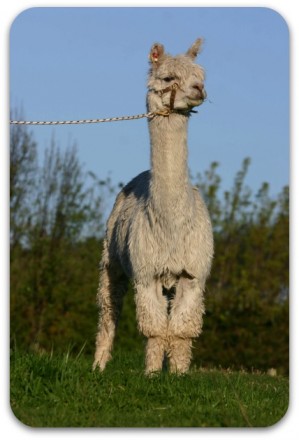 Surilana Rufino
Solid White Suri
IAR 60454
DOB 01/01/1998
Rufino was imported from Accoyo in Peru in 2002. He has made a large impression on the Surico herd, bringing fineness and uniformity of micron to his progeny. This trait has proven to be one of the most important fleece traits when processing the highest quality products.
Rufino left a legacy of noteable progeny some are listed below.
Surico Jade continues to exhibit a fine, even fleece which she in turn is passing on to her progeny, her best known being Surico Rosse and Surico Onedin.
Surico Maxwell Smart is a male with an outstanding fleece that continues to win championship awards at shows, he has won Supreme Champion Suri Fleece at many shows including the 2011 AANZ National Show.. His progeny are exhibiting excellent fleece qualities.
Surico Montpellier is one the principal males presently being used at Surico for breeding as he exhibits all the desired qualities.
Surico Ranaldo has been a significant name in the show ring and his progeny have followed suit. He has the ability to produce the best quality coloured offspring from coloured dams.
Surico Valiant, also well known in the show ring with his progeny continuing the tradition, Surico Tangier sired by Valiant being Supreme Champion Suri at the 2010 AANZ National Show. Other progeny have also excelled in the show ring. Valiant still carries a very well aligned, lustrous fleece.
Sadly Rufino died in 2010.