Surico Tangier
IAR 1002684 | DOB 19/02/2010
Sire Surico Valiant
Dam Surico Marbella
Status - Proven Stud Male - Parent Verified
Fleece
2010 | M 19.2 | SD 3.8 | CV 19.8 | CF 98.8%
2011 | M 19.5 | SD 3.5 | CV 17.8 | CF 99.4%
2012 | M 21.3 | SD 3.9 | CV 18.2
2013 | M 22.4 | SD 4.5
2014 | M 24.5 | SD 5.0
2015 | M 26.2 | SD 5.2
2016 | M 25.7 | SD 5.7
2017 | M 26.5 | SD 5.3
2018| M 25.6 | SD 4.9
Fleece tested at AAFT
We are proud to present this excellent male, bred from 2 award winning parents, both being bred at Surico from our selected breeding program. Coming from a sound and dependable background of breeding, including 3 Accoyo males.
Tangier has superb fleece qualities with lustre, fineness, uniformity, density, length and structure. He is well conformed and has solid bone. Following in the footsteps of his sire, he has a friendly and easy going temperament.
His breeding has been backed in the show ring, having already been awarded Supreme twice as a junior and four times as an intermediate, he was Supreme Champion Suri at the 2011 AANZ National Show in Tauranga, judged by Lyn Dickson and Peter Kennedy, both of Australia..
Tangier has joined the Surico stable of stud males as a premiere male of choice, he has 2 male progeny born in 2015, both some of the best ever born at Surico and more quality in 2016.
As an update, he will be used extensively in our breeding programme at Surico, after the quality cria born in 2016 at Surico, including a dark fawn out of a black dam. In 2018 one of his progeny Surico Pascale, won Supreme at the National Show, she also won several other Supreme awards as a junior and intermediate.
Progeny
2015
Surico Renard (Dam Surico Meribel) Supreme Champion Suri at Rotorua A&P 2016.
Surico Tander (Dam Surico Chamonix)
2016
Surico Nui [Dam Tironui Freesia]
Surico Pirouette [Dam Surico Coppelia]
Surico Vallon [Dam Surico Meribel]
Surico Sweetie fawn [ Dam Surico Tinka black]
2017
Surico Pascale [Dam Surico Rosse/ 2018 National Supreme Champion]
Surico Jete Dam [ sold-Dam Surico Coppelia]
Surico Gabrielle [sold- Dam Surico Gloriata]
2018
Surico Pizazz [Dam Surico Rosse-multiple broad ribbon winner]
Surico Galatea [Dam Surico Gloriata]
Surico Gretchen [ Sold-Dam Surico Giselle]
Fairhaven Prelude [Dam Surico Aria]
Stud Fee $1,750 + GST
Sale price on application
Breeding
Sire: Surico Valiant was bred at Surico from 2 of our most reliable suri, both having produced some of the best, with multi award winning progeny. His dam Star originated from Allianza in Peru and his sire, Surilana Rufino was imported from Peru in 2000 from Don Julio Berreda's Accoyo herd.
Valiant is producing stunning quality offspring. He has an impressive show record with several Supremes to his name and Championships from Junior through to Mature, including at National level.
Dam: Surico Marbella, was sired by Surilana Parsifal one of our 'Supreme Sires'. He consistently breeds true to type suri progeny that exhibit excellent fleece traits in lustre, handle, independence and architecture of lock, and coverage. Parsifal has sired numerous show champions and supreme champions [Surico Yulia 2005 AANZ National and Surico Onedin 2010 AANZ National, Demoiselle 2013 AANZ National, Burton in 2015 AANZ National].
Her dam is Surico Ibiza [by Kaihere Accoyo Brilliante] and has produced top quality suri.
Marbella has a very fine and lustrous fleece and she has good solid conformation. Marbella won many awards at shows, including at National level, until she started breeding. Her second cria is also striking, indicating her breeding value This maternal line has vigour and great nurturing abilities.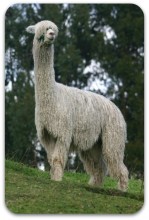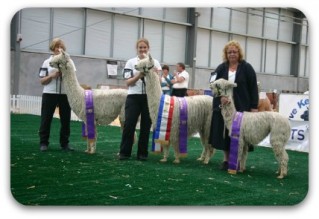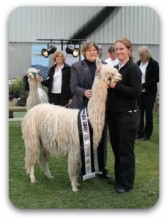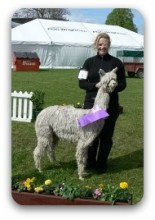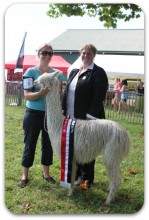 Show Credits
National Show 2011 [Tauranga] Judges Peter Kennedy [Aust] & Lyn Dickson [Aust]

1st Intermediate Male W/LF Suri
Champion Intermediate Male Suri
SUPREME CHAMPION SURI
New Zealand Royal Show 2011 (Waikato) Judges Kylie Martin [Aust] & Kevin Burgess [NZ]

1st Intermediate Male W/LF Suri
Champion Intermediate Male Suri
SUPREME CHAMPION SURI
National Show 2010 Judges Kate Mander (NZ) & Julie Bird (Aust)
3rd Junior Male W/LF Suri
Hawkes Bay A&P Show 2010 Judge Lloyd Johnston (NZ)
1st Junior Male W Suri
Champion W Suri (Colour Show)
SUPREME
Waikato's World 2010 Judge Lyn Dickson (Aust)
1st Junior Male W/LF Suri
Champion Junior Male Suri
Warkworth 2011, Judge Paul Garland (NZ)
1st Junior Male W/LF Suri
Champion Junior Suri
SUPREME
Franklin A&P Show 2011 Judge Molly Gardner (NZ)
1st Int Male W/LF Suri
Champion Intermediate Suri
SUPREME
Royal Easter Auckland 2011 Judge Bill Robbins (Aust)
1st Int Male White Suri
Champion Intermediate Male Suri
SUPREME